Spaghetti,red garlic from Sulmona, extra virgin biological olive oil and sweet peppers from Altino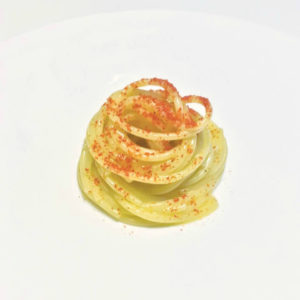 Created by Davide Di Fabbio
Fields with slow-drying grain, processes from olives to oil, cultivated fields, farmers who keep ancient traditions, social cohesion, land of dreams but also of hard work. This is our land!
Pasta, garlic, olive oil and red sweet pepper may seem to be four simple ingredients but behind each of them there is a profound knowledge of the land and its true expression. In fact, that's the story of our country…
Ingredients
400 gr. Spaghetti (craft)
50 gr. extra virgin biological oil variety  'Tortiglione'.
1 poached clove of red garlic from Sulmona
2 gr. extra virgin olive oil with chilipepper
8gr. powder of sweet pepper from Altino
Salt
1+1 liters of water
Proces
Take a cooking pot, pour the first litre of water in it with a bit of salt . Let it boil. Take another pot  ( 30 cm) and fill the inside with 1/3 extra virgin olive oil, the clove of garlic and turn the temperature up. As soon as the garlic begins to brown, remove it and pour another litre of water, lightly salted in it and let it boil.
Take the spaghetti and cook it like a risotto, each time the water gets to less, add the other boiling water. Cook the pasta, keep it dry but still soft. Remove it from the heat and stir it with the rest of the extra virgin olive oil and the olive oil with sweet pepper.
[best_selling_products per_page="1" orderby="menu_order" columns="1" order="ASC"]