Abruzzo, where our olive trees have their home
The sunny hills of Bellante, from which the view extends from the Adriatic sea in the east to the rocky ridges of the Gran Sasso in the west, this land nourishes our plants. This location is the soul of Abruzzo. The region  cherishes it's traditions and the relationship with the land. Here, on the silent sunny hills,  our olives have all the time to mature.
When do we start the collection  (in Italian: 'la raccolta') of the olives?
On our hills, the olives are ready to be harvested from mid-October to the beginning of December. But it depends, because the life of the olive tree is related to the climate of the land. The olive matures at different times, also depending on the height of the tree and only an expert, trained by years of cultivation, can grasp the exact moment to start the collection. It can't start too soon because the olives, still green, have not matured enough. When the olives are collected too late, the oil loses its nutritional power and has already started to detach spontaneously. The experienced farmer recognizes the right, the perfect moment. In this way, the oil will be of excellent quality and the tree will give the maximum amount of olives.
How we collect our olives?
The collection is a delicate moment that requires efforts and concentration: the long effort will be rewarded by quality and quantity of the oil. To collect the olives, there are many methods. The choice of which method depends on the local traditions, of the size, of the age of the tree and of the available resources.
We use combs, with compressed air, that pass through the branches and encourage the fall of the olives. Then the olives are collected on the ground by large nets placed around the trees. Our first priority is paying ultimate attention not to damage the plant and we try to collect the maximum amount of olives, preserving the quality and the freshness. Therefore the olives are, after the collection, stored in perforated containers where they are free to dry, with enough air to guarantee this unique quality. Therefore, we aim to finish the entire process within a few hours.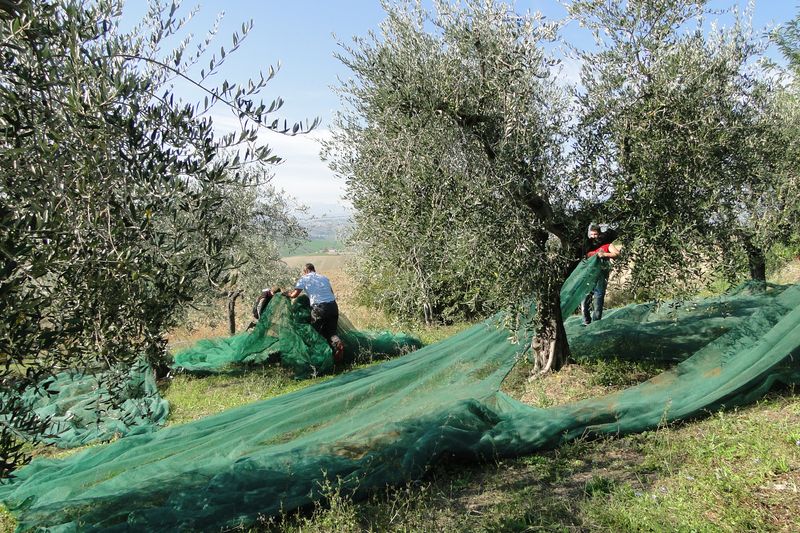 [best_selling_products per_page="1" orderby="menu_order" columns="1" order="ASC"]